In light of Walter Becker's passing, we wanted to highlight some of his great work outside Steely Dan. Especially the amazing album he produced with Rickie Lee Jones in 1989, Flying Cowboys.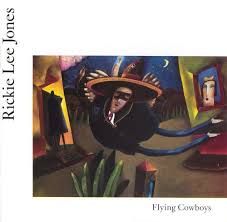 If you haven't heard it, Flying Cowboys is well worth checking out. The production on this record is tasty and sophisticated, true hallmarks of Walter's style.  
With Walter at the helm, the list of musicians on the record is a who's who of great studio players -- in fact, it reads a lot like the liner notes on a Steely Dan record. Greg Phillinganes on keys, Dean Parks on guitar, Randy Brecker on trumpet, and the list goes on.
The song "Satellites" was the closest thing to a hit on the album, peaking at #23 on the charts. But we especially love the two reggae tunes on Flying Cowboys -- "Ghetto of My Mind" and "Love Is Gonna Bring Us Back Alive."
In his work outside Steely Dan, Walter was a real reggae lover. In fact, Walter's second solo record, Circus Monkey, is full of great reggae grooves.
In addition to RLJ's Flying Cowboys, Walter produced several other cool records that are worth checking out:
Related Links
If you like Flying Cowboys, you might also like Gooseneck's Flyin' High. The similar name is purely coincidental! You can get a free download by clicking this link.