Did you know how many times Steely Dan has been sampled by other artists? Even if you're not a rap fan, you might appreciate how the Dan are being sampled in some tracks, like Ice Cube's use of "Green Earrings" in his track "Don't Trust 'Em."
One of our favorites is the "Black Cow" sample used in "Deja Vu (Uptown Baby)" by Lord Tariq and Peter Gunz
. 
We were recently watching the Aja documentary (a must-see for Dan fans) and saw a short clip of Donald rapping along to his own song.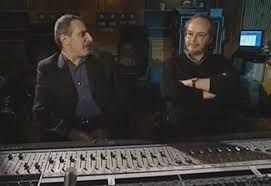 Watch the short video clip below to see Donald i
n action. And try not to crack up when you see Donald's rapping skills! He even makes the usually-stoic Walter Becker start laughing:


Another big one was Kanye West's track "Champion" which samples the Dan's "Kid Charlemagne."

The story about that track is that Donald and Walter initially declined Kanye West's request to use the sample. But then Kanye sent them a handwritten letter pleading his case and telling them he wanted to use it for a very personal song that was about his father.

That changed their minds and they agreed to let him use it. Here's a great interview with Donald that details the Kanye story, and talks about Fagen's latest Sunken Condos record: Interview With Steely Dan's Donald Fagen.

And here's a complete list of all the Steely Dan tunes that have been sampled: Who Sampled Steely Dan.

Leave A Comment 

Now it's your turn. What's your favorite use of a Steely Dan sample?

And if you like this post, you might also like:
Steely Dan's Long-Lost Song "Second Arrangement"
More Unreleased Steely Dan Outtakes