Steely Dan made nine studio albums -- seven in a burst of creativity in the '70s, then two more after a 20-year break. But for Steely Dan fans, the question of which ONE is best is admittedly impossible to answer. It's like asking whether you favor the Beatles or the Stones, Giants or Jets, or...you get the picture.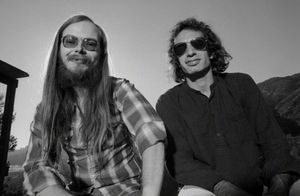 Still, we posed that question in our latest poll. None of you will be surprised to learn that Aja topped the list. But what's more interesting is which albums came in second and third. So drumroll, please....

In second place is what some would call the most rocking, guitar-drenched Dan album, The Royal Scam. We absolutely love this record, from the opening bars of twisted funk and drug-dealer-gone-to-seed in "Kid Charlemagne" to the burning guitar intro of "Don't Take Me Alive" and the noirish tale of corruption in "The Royal Scam." 

Not far behind is the stately Katy Lied. From the dueling electric pianos of "Black Friday" to the plaintive "Doctor Wu" this is perhaps the Dan's most varied record.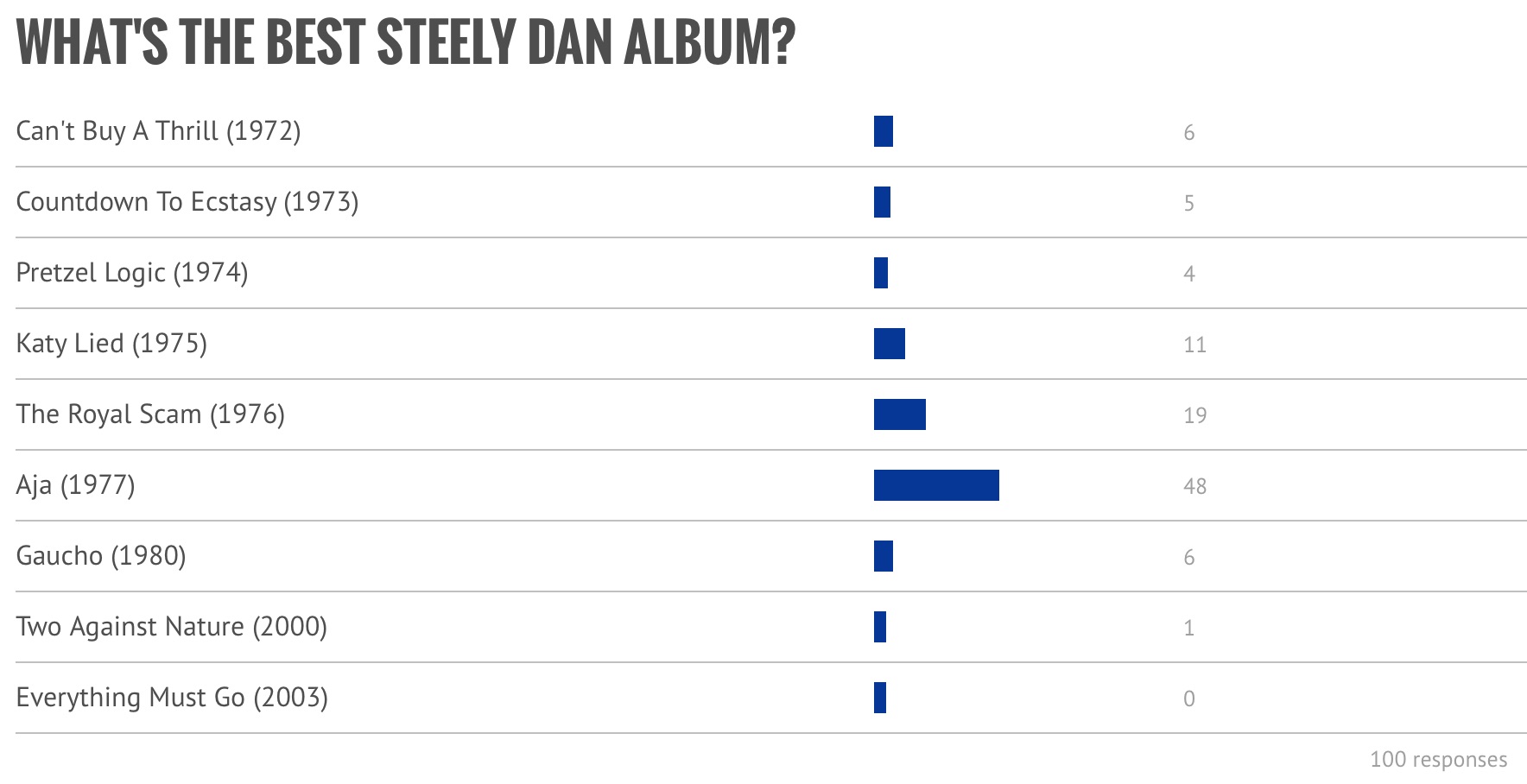 We're a little surprised that Gaucho didn't score higher. This is the record that broke up the band, when they drove themselves to burnout through studio obsession. It was during this period that Walter Becker's substance abuse got out of hand, culminating in a broken leg when he was hit by a taxi in New York.

In defense of Gaucho, Donald Fagen defends against the misperception that the Dan created smooth jazz. He offers a different explanation -- that not everyone gets their sense of humor, which can be too subtle or obscure for some folks. Here's his take on "Hey Nineteen:" 
We're actually accused of starting smooth jazz, which I don't think is exactly true. A lot of the effects we got were intended to be comic, like 'Hey Nineteen.' We were in our 30s, still saddled with these enormous sex drives and faced with the problem that you can no longer talk to a 19-year-old girl because the culture gas changed. That's set against an extremely polite little groove. And then the chorus is set to jazz chords, and it's scored for falsetto voices, which adds to the effect. To me, it's very funny. But for some other people, it's nauseating.
 
And what about the newer Dan material? Unfortunately, the more recent the record, the worse it did in our poll. Two Against Nature scored only 1 vote, while Everything Must Go got a GOOSE egg. That's a Rodney-Dangerfield-esque lack of respect. 

For some good related resources, here's a long profile of Donald Fagen with some great detail about his influences, his songwriting process, the band's history and other curiosities: Icon: Donald Fagen.

And here's an article that ranks the Dan's albums, and their ranking is very close to our poll results. Plus, in true ironic Dan fashion, they do it backwards: Steely Dan Albums From Worst To Best.

Leave A Comment

Now it's your turn? Do you agree with these poll results? What's your favorite Steely Dan album and song? Leave a comment and let us know!

And if you like this article, you might also like:
Steely Dan's Greatest Guitar Solos
Steely Dan's Donald Fagen As A Rapper?