How did we miss this?!
Never knew Steely Dan did a VH1 "Storytellers" episode back in 2000.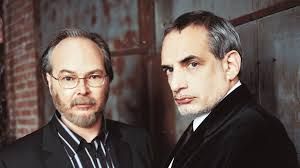 Recently found this gem on YouTube. Donald and Walter and their band of ace musicians talking about and then playing a bunch of classics.
Fun stories from Donald and Walter about the origins of the Steely Dan name (they couldn't use "Becker and Fagen" because it sounded like the name of a delicatessen), the story behind "Kid Charlemagne" (about a drug kingpin in 1970s San Francisco) and more.
Well worth it for Steely Dan fans!
Related Resources
If you love Steely Dan, you might like the sophisticated harmonies and sly lyrics in Gooseneck's latest record, Flyin' High. Get a FREE DOWNLOAD at this link or by clicking the image below: