Call this story, "When Emilio met Doc."
It was the summer of 1968 when Emilio Castillio met Stephen "Doc" Kupka at an audition at Emilio's house. After hearing Doc's amazing baritone sax work, Emilio's father turned to his son and said, "Hire this guy!"
The two soon started playing gigs around Oakland and the Bay Area. Little did they know that they would go on to helm the world's greatest horn band for 50 years!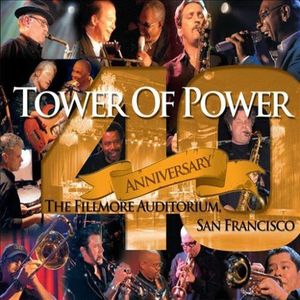 At this auspicious moment, we went back and watched and listened to TOP's last big anniversary show, their 40th.
If you haven't seen Tower Of Power's 40th Anniversary DVD/CD, you should check it out. Amazing songs, unbridled funk and horns galore!
Check out this video of the show:
Related Resources
If you love the horns in Tower of Power's music, you might also like the funky horns and baritone sax in Gooseneck's latest record, Flyin' High. Get a free download by clicking this link or the image below.