Tower of Power recently added a tagline to their posters and their website that says "Established 1968." We love that! And indeed it has been a glorious 50-year run for the sanctified soul stalwarts from Oakland.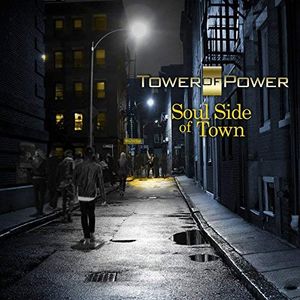 TOP is one of those rare bands that has not only stayed together for 50 years -- but also continued to make new music that's still vital and fresh. 
TOP's latest album, Soul Side of Town, is another gem in their long line of great albums -- and marks their 25th record in 50 years. 
This is a must for TOP fans and anyone who loves the sound of soul. Tracks like "Easy Bay! All Day!" hit that classic syncopated soul and the title track is also amazing.
If you're one of the lucky fans who got to see them on this year's 50th anniversary tour, then you no doubt saw an amazing show. 
Check out this live version of "Squib Cakes" -- tight!
And in case that's not enough funkiness for you, here's one more.  And this one answers the eternal question....What Is Hip?!
Related Resources
If you like horn bands like Tower of Power, then you might like Gooseneck's latest album, Flyin' High. Get a free download at this link or by clicking the image: