What's Bonnie Raitt's best album?
She's made many great ones, and of course Nick of Time was her big breakthrough.
But 15 years before Nick of Time, there was Takin' My Time, her classic album from 1973.
We believe this is the best of her early albums and well worth picking up if you don't already own it.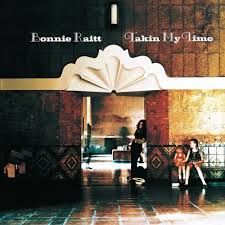 The album's initial producer was Little Feat's Lowell George. But apparently Bonnie and Lowell were dating at the time and they starting clashing on the production of this record. Bonnie said she liked being the boss, which didn't sit well with Lowell! So they made a change and brought in John Hall to finish the production.
If you think this record sounds like Little Feat, that's because the Feat boys are all over these songs. The backing band was led by Bill Payne on piano on most of these tracks. Paul Barrere and Sam Clayton also make multiple appearances. And of course Lowell George's slide guitar graces the album as well.
Bonnie showed her great skill at picking songs for her albums. This one starts with the Motown gem, "Girl You've Been In Love Too Long."
There's a great song from Jackson Browne, with whom Bonnie has made music and fought for various causes through the years. She covers Jackson's "I Thought I Was  A Child" on this record. 
Check out this video of Bonnie and David Lindley recording Jackson Browne's "Everywhere I go" for a tribute album:
In addition to Jackson Browne, there are other amazing songwriters on Takin' My Time. Legendary writer Mose Allison contributes the song "Everybody's Cryin' Mercy." And the album closes with Randy Newman's wry classic "Guilty."
Here's a younger Bonnie in a great video segment from VH1's "Woman Behind The Blues" from 1989: 
We've owned this album in every format through the years -- from vinyl to cassette to CD. If you don't have a copy, or if you lost your old vinyl copy the last time you cleaned out your garage, here's a reminder to pick up a copy of Bonnie Raitt's "hidden gem" Takin' My Time.
Related Links
If you like the songs and musicianship on Bonnie Raitt's records, you might also like Gooseneck's new album, Flyin' High. Get a FREE DOWNLOAD at this link or by clicking the image below: