Most people know Frank Zappa for his sardonic songs and genre-busting compositions. But what many don't fully appreciate is his guitar mastery.
FZ wasn't your typical guitar hero. Rather than burning through the typical pentatonic scales, Zappa's solos featured the best kind of improvisation: they told stories and were often surprising.

Call him the anti-guitar hero.
Shut Up 'n Play Yer Guitar is the Zappa record that best showcases his fleet-fingered fretboard finesse. It's an all-instrumental 3-disc set that captures all the wild variety of his playing.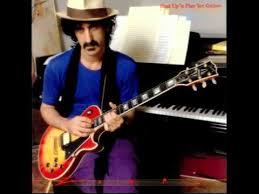 What you might not know is that the solos on Shut Up 'n Play were often taken from live recordings on other songs, and then set to new music. Cool, right? 
If you haven't heard this record, click on this link to check it out!
Leave A Comment
Now it's your turn. What's your favorite Frank Zappa record? What do you like the most about FZ?

And if you like this post, you might also like:

Aerosmith's Real Life "Spinal Tap"

Why ZZ Top's "Tush" Is Not What You Think

Jimmy Page On Writing And Recording "Stairway To Heaven"