Ok, so the last time we thought about "Stairway to Heaven" was when it was portrayed -- as a joke -- on Wayne's World. It's the scene where Wayne picks up a guitar and starts to play the song's opening notes, but the clerk stops him and points to a sign in the store that says NO STAIRWAY.

But then we saw this video of Jimmy Page and it changed our view of the song. Jimmy is listening through the song -- on vinyl! -- and explaining how they wrote and recorded it at Headley Grange, a "cottage" (more like a castle) in the English countryside.

Jimmy said their goal was to create a long piece of music that started quietly with an exposed acoustic guitar. It would keep unfolding with more layers and moods, building momentum until the soaring climax. 

Here's the BBC News video of Jimmy's commentary about how they wrote it:


"It was a very inspired time for all of us," according to Jimmy. He said part of the reason they were so productive is that they were living together at Headley Grange, without the distractions of London. They were basically doing nothing else but eating, sleeping and making music.
Some of the highlights of how they developed the song:
The recorders during the song's intro were John Paul Jones's idea, and made it sound "medieval." 

Robert Plant came up with the lyrics quickly. Jimmy says he vividly remembers Robert sitting against the wall with a notepad, dashing off the lyrics after just a couple times listening through. 

The concept of the solo was to create a definite transition -- a "fanfare" -- so the solo could "soar through to the end."
The story behind Headley Grange is also interesting. Turns out a bunch of great records were made there. From Led Zeppelin III and IV to the epic Genesis album, The Lamb Lies Down on Broadway. There's some great insight into the recording process in this article: Led Zeppelin at Headley Grange.

In fact, the song "Black Dog" was inspired by a black labrador that was hanging around the property during the recording sessions.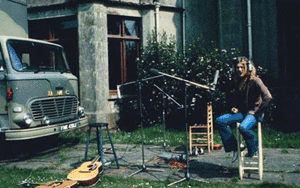 Leave A Comment

Now it's your turn. If you like this post, leave us a comment. What's your favorite Zeppelin track? Favorite album?

And if you like this post, you might also like:
Steely Dan's Long-Lost Song "Second Arrangement"
Aerosmith's Real Life "Spinal Tap"