It's official: Larry Carlton's blazing work on "Kid Charlemagne" is Steely Dan's best guitar solo. 

That's according to our poll of 100 Steely Dan fans who picked their favorite solo from the list of 10 epic songs below.

The top 3 solos in the survey were Larry Carlton's effortless "Kid Charlemagne," Jeff Baxter's ripping "My Old School" and Elliott Randall's masterful "Reelin' In The Years."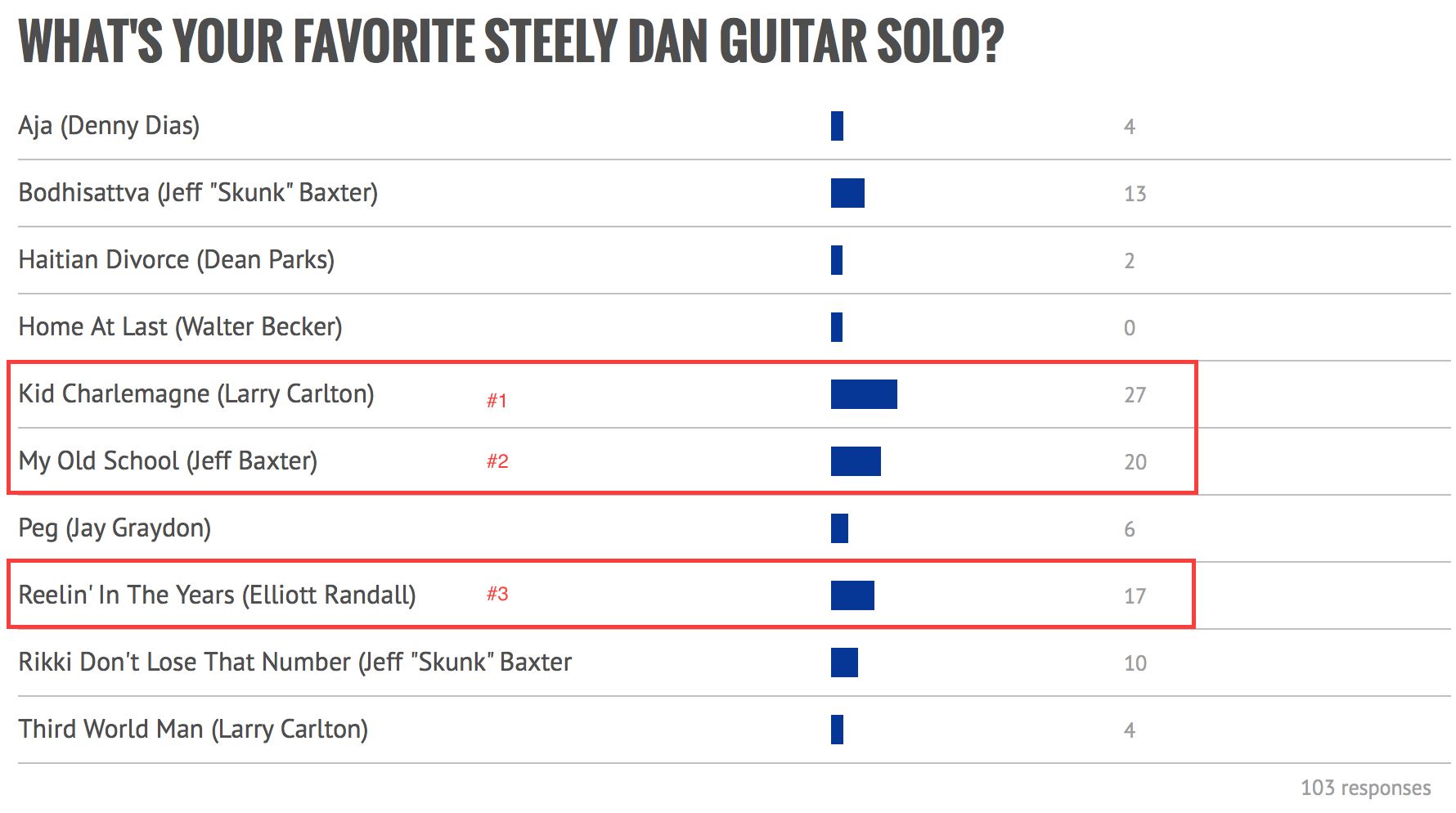 Here's an in-depth look at those three solos.

Larry Carlton, "Kid Charlemagne"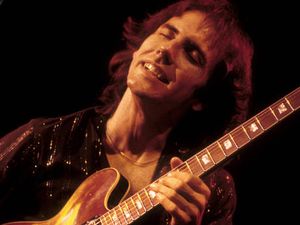 Larry Carlton was a guitar prodigy who started playing professionally as a teenager. At one point he was doing up to 500 recording sessions per year in L.A. for the likes of Steely Dan, Joni Mitchell, Billy Joel and Michael Jackson. It was during this period that Larry earned the sobriquet "Mr. 335" because he became so associated with Gibson's classic semi-hollowbody guitar.

Here's Donald Fagen talking about Larry: 
Larry Carlton played on quite a few of our records. He's a real virtuoso. In my opinion he can get around his instrument better than stay studio guitarist. His did the solo on "Kid Charlemagne" in two takes.
Walter Becker described Larry's role as a kind of musical director who could translate their ideas for the other musicians on Steely Dan recording sessions. 
If Royal Scam is the definitive Steely Dan guitar record, then Larry Carlton is the reason why. He contributed quite a bit to the tunes. There would be a lot of volatile people with volatile musical styles in the room and, in a lot of cases, it seemed to me that Larry, more than anyone else, was holding things together rhythmically and in other ways.
Check out some of his solo work on The Very Best of Larry Carlton. 

Jeff "Skunk" Baxter, "My Old School"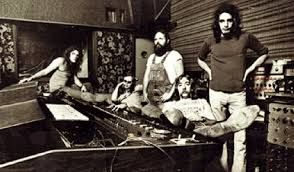 We've seen Steely Dan multiple times over the years and at every show the biggest crowd-pleaser is "My Old School." The groove is infectious, the story is hilarious and the guitar is outrageous!  

The guitar solo on this track is one of Jeff Baxter's crowning achievements during his stint in Steely Dan. He was a founding member of the group, along with their other amazing guitarist, Denny Dias. 

Jeff got his start working in Manny's Music in New York City, where he ran into a young Jimi Hendrix and ended up playing bass in one of Jimi's early bands. What a way to start your career!

It was after he left NY for LA that he met Donald and Walter and joined the Dan. After Steely Dan stopped touring, Baxter bowed out of the group and went on to join the Doobie Brothers. Pretty good place to land after leaving Steely Dan!

In fact Baxter brought singer Michael McDonald into the Doobies to fill in for an ailing Tom Johnston. He knew McDonald from their time together in Steely Dan.

In a strange-but-true career twist, Baxter's interest in musical technology led him to develop an interest in military technology. He turned that passion into a series of consulting gigs for such government agencies as the Pentagon's Missile Defense Agency.   

Elliott Randall, "Reelin' In The Years"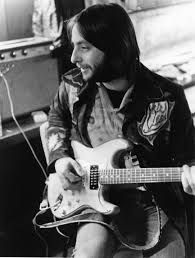 Jimmy Page once called Elliott Randall's work on "Reelin' in the Years" his favorite guitar solo ever. That's quite an endorsement and indeed his playing on the track is very tasty!

Elliott Randall knew Donald and Walter in their early years in New York when they were playing with Jay and the Americans. He started playing on their records but turned down the opportunity to join Steely Dan as a permanent member. He thought the group dynamics would lead to a dissolution of the band, and he was right!

It turns out Elliott had a history of turning down permanent gigs in bands like Steely Dan, preferring instead to focus on studio work. Apparently Jeff Porcaro and David Paich offered him a founding spot in Toto, but he turned that down too!

Check out his album, Elliott Randall's New York.

Leave A Comment

Now it's your turn. What's your favorite Steely Dan guitar solo? Favorite guitarist on their albums? Leave a comment and let us know!

And if you like this post, you might also like:
Steely Dan's Long-Lost Song "Second Arrangement"
More Unreleased Steely Dan Outtakes