September 3rd, 2017 was a sad day for Steely Dan fans and music fans everywhere because that's the day Walter Becker died.
Amid all the tributes to Walter that are popping up online, the best is Donald Fagen's moving statement about his bandmate and friend. Donald characterized Walter this way: "He was smart as a whip, an excellent guitarist and a great songwriter."
The only silver lining for Steely Dan fans might be Fagen's assertion that "I intend to keep the music we created together alive as long as I can with the Steely Dan band."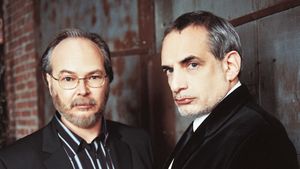 One of the things Donald highlighted was how funny Walter Becker could be. Of course, their lyrics together were always wry, ironic and offbeat. You could imagine the two of them trading lines back and forth, laughing as they did so. 
Here's Donald describing Walter's sense of humor:
He was cynical about human nature, including his own, and could be hysterically funny...He had the knack of creative mimicry, reading people's hidden psychology and transforming what he saw into bubbly, incisive art. He used to write letters (never meant to be sent) in my wife Libby's singular voice that made the three of us collapse with laughter.
Yes, Walter Becker could be very funny. Take Steely Dan's Rock n' Roll Hall of Fame induction speech. Well, it wasn't really much of a speech, but the ever-cool Becker and Fagen made it sly and funny. Watch as Walter turns it back to the crowd and takes questions from the audience:
Of course Steely Dan's body of work was amazing, but Walter also created great work as a producer outside Steely Dan. One of our favorites was his production with Rickie Lee Jones on her classic album, Flying Cowboys.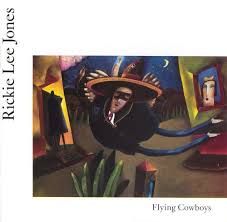 If you don't have Flying Cowboys, you should grab a copy and listen closely to its sophisticated production, a telltale sign of Walter's work. Rickie Lee wrote a beautiful tribute to Walter the day he died. You can find it at this link.
Another of our favorite songs he wrote outside Steely Dan was with co-producer Larry Klein for the jazz singer Madeleine Peyyroux. It's a tune called "You Can't Do Me" and some of the best lines are: 
Down like a deep sea diver / Out like a Coltrane tenor-man / Lost like a Chinese war baby / Gone, gone, gone!
Blued like a Mississippi sharecropper / Screwed like a high school cheerleader / Tattooed like a Popeye sailor man / Gone, gone, gone!
Walter's voice is so clear in those lyrics -- they could just as easily have come from a Steely Dan song. Funny stuff, right? 
Walter Becker's work inside and outside Steely Dan left an indelible mark on the world of music. Yes, 9/3/17 was a sad day. Thanks Walter for all the amazing music. RIP.