Those of us who were around back in 1986 had the opportunity to see an amazing combination: Bob Dylan with Tom Petty and the Heartbreakers as his backing band.
At the time, Dylan was at a low point in his career. Tom Petty and the Heartbreakers helped inject some new life and spark into Dylan's live show, and the resulting tour was an amazing experience for those of us who were lucky enough to see it.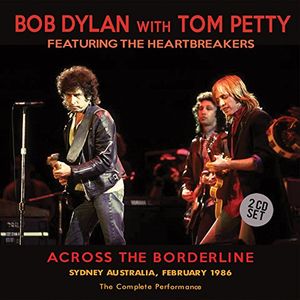 I vividly remember the show in Washington, D.C. at RFK stadium, where we saw some great music in the summer of 1986. I'll never forget Dylan and his backup singers all wearing head-to-toe leather in sweltering heat of July in D.C. 
There's a bootleg album from that tour, called Across The Borderline. Well worth picking up for diehard Dylan and Petty fans. (Though fair warning -- the audio quality is imperfect since this is a bootleg recording).
Check out this video from the tour:
Related Resources
Just a quick reminder that if you haven't heard the latest Gooseneck record, Flyin' High, you can get a free copy at this link or by clicking the image below: