That's according to our latest poll of over 250 music fans, when we asked them to pick their favorite from a list of 10 great horn bands.

Tower of Power was the runaway winner, with more than 50% of the votes. Chicago was a distant second place. Earth, Wind & Fire narrowly beat out Blood, Sweat & Tears for third.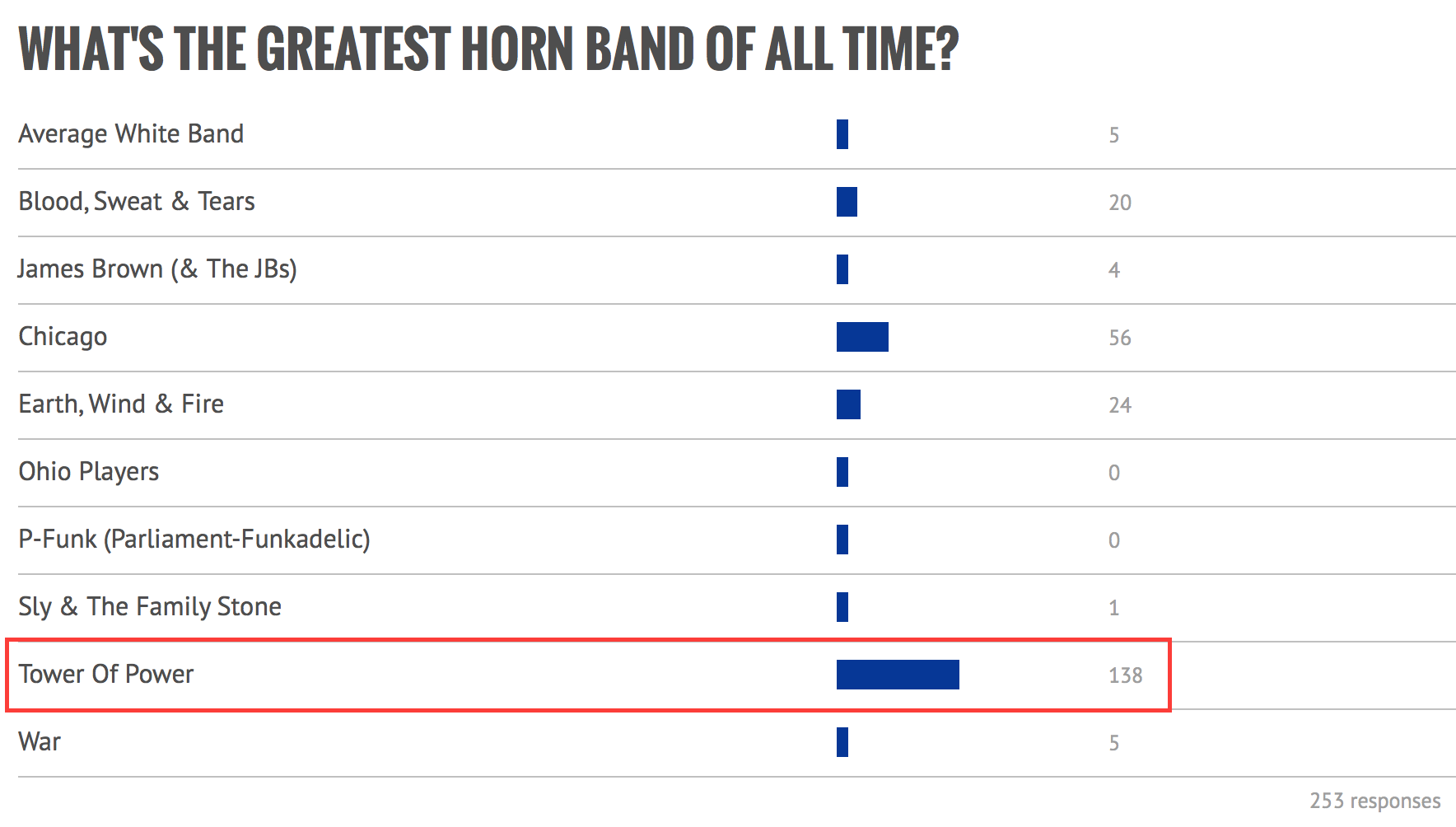 In addition to polling listeners for the best horn band, we also want to shine a spotlight on some of the unsung heroes of these bands: the horn arrangers.

Greg Adams of Tower of Power

Many guys shared arranging duties over the years in TOP -- including band founders Emilio Castillo and Doc Kupka. And if anything represents the sound of TOP horns it's Doc Kupka's low-down, greasy baritone sax. 

But it was Greg Adams, the East Bay trumpeter, who wrote many of those bari sax lines and many of TOP's signature horn charts.

After Greg parted ways with TOP, he started his own funky horn band, East Bay Soul.  Check out their latest album, That's Life. 

And here's a great clip of Greg and the TOP boys playing "What Is Hip" back in the day:



James Pankow of Chicago 

While Tower Of Power's horn arranger was a trumpeter, Chicago's is a 'bone man! Trombonist James Pankow -- a founding and still current member of Chicago -- wrote most of their greatest horn arrangements. 

From "Saturday in the Park" to "Feelin' Stronger Every Day" -- you can hear Pankow's catchy and fluid horn arrangements throughout Chicago's discography. Here's a fun live clip featuring Pankow on trombone:



Phenix Horns of Earth, Wind & Fire (and Phil Collins)

EWF's distinctive sound owes a lot to the four original members of the EWF Horns, now called the Phenix Horns -- Don Myrick on sax, Louis Satterfield on trombone, and Rahmlee Davis and Michael Harris on trumpet. These guys defined a new funk sound with their fast staccato runs and impossibly high brass.

And if the funky horns in Phil Collins and Genesis songs like "I Missed Again" and "Paperlate" sound familiar, that's because they were arranged and played by the Phenix Horns. Collins originally recruited the horn section for his classic album, Face Value.

According to producer Hugh Padgham, it was a little rocky at first because EWF founder Maurice White didn't want his horn section all over "some British bloke's" music! But their relationship blossomed over time and the Phenix Horns went on to do many things with Collins and Genesis. Here's a great video clip from one of their tours:



There's also great interplay between Collins and the Phenix players in the DVD Classic Albums -- Phil Collins: Face Value.

Finally, we also got a lot of write-in candidates for best horn band, in addition to the 10 that we included in the poll. Frequent mentions included:
Leave A Comment

Now it's your turn. Do you agree with the top 3 picks in this poll? What's your favorite horn band? Leave a comment and let us know!

And if you like this post, you might also like:
Little Feat And Tower Of Power Made The Ultimate Live Record
Elton John And Tower Of Power Rock This "Bitch"